Meet Your Compassionate Hospice Care Team
The doctors and technicians at Utah Pet Hospice have undergone specialized training in animal hospice and will care for your pets like they would their own. Our staff members share their time among two Animal Care Center locations and the Utah Pet Hospice. All are experienced, compassionate doctors and technicians who have chosen to dedicate their professional lives to animal care.
Dr. Pam Nichols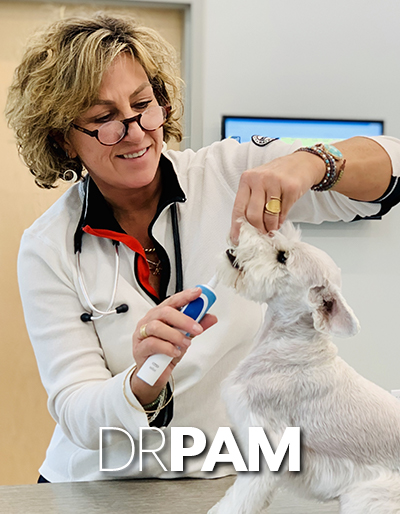 In addition to operating the Utah Pet Hospice, Dr. Pam Nichols is the owner of two Animal Care Center locations as well as two Utah Dog Park locations.
Dr. Pam earned her doctorate from Colorado State University and launched Animal Care Center in West Bountiful more than 20 years ago. She has dedicated her life to her clients, patients, and employees and in the process, launched two award-winning businesses while also creating new avenues for pet care, including Utah Pet Hospice and Utah Virtual Vet—the first provider of telemedicine for veterinary patients in Utah.
Animals and their people are her passion. Her personal motto is that "we are here to make good things happen for other people."
Dr. Pam loves horseback riding (chasing cows), reading, snow and water skiing, trap shooting and flying airplanes. She is a private pilot with an instrument rating and devotes time each month flying for Angel Flight West. Her daughter Elaine Nichols is the joy of her life.
Dr. Kara Tassone
Born and raised in Ogden, Utah, Dr. Kara Tassone completed her DVM at St. George's University in 2007 and spent her clinical year at the University of Illinois, where she developed a strong interest in dentistry, internal medicine, dermatology, and oncology.
Through an internship at the Animal Referral and Emergency Center of Arizona, Dr. Kara spent time with veterinary specialists in a variety of arenas, including radiology, surgery, emergency medicine, oncology, cardiology, and dermatology.
Dr. Kara also has a very special place in her heart for brachycephalic (short-faced) pets and all of their unique features and problems.
Her motto has always been "lead to inspire" because she believes that we should all take every opportunity to better the world around us—no matter what we are passionate about.
Dr. Kara and her husband, Dr. Michael Lemmon, share their home with four dogs, one cat, and one human child, Victoria, who can be found most days at the Animal Care Center. Dr. Kara enjoys riding motorcycles, hiking, camping, working in the yard, and doing anything that keeps her family outside in the fresh air.
Dr. Verona Scheurich
Dr. Verona Scheurich graduated from Colorado State University in 2005 where she first developed a passion for acupuncture.
Before moving to Utah, Dr. Verona worked in a dynamic practice in North Dartmouth, Massachusetts, where she focused on acupuncture therapy. She also completed a Companion Animal Acupuncture Certification Program through Colorado State University that required more than 140 hours of formal training. As well as a love of this discipline, Dr. Verona also has a strong interest in feline medicine, internal medicine, and anesthesiology.
Dr. Verona lives in Sugarhouse with her beautiful and loving daughter, Frankie, whose smile is the light of her life. She also shares her life with a rescue dog, Max, and rescue cat, Boo.
Growing up in Sandy, Utah, Dr. Verona developed a love of being in the open air, which she maintains to this day. In her spare time, she enjoys being with her daughter, doing yoga, hiking, biking, cross-country skiing, and occasionally rock climbing.
Dr. Steph Sheen
Dr. Steph Sheen graduated with a dual DVM/MBA degree in 2013 from Texas A&M University College of Veterinary Medicine. Before attending veterinary school, she worked as a newspaper journalist.
Originally from Texas, Dr. Steph moved to Utah after graduation to be closer to family. Although she enjoys working with all dog and cat breeds, she has a particular soft spot for dachshunds.
Outside of work, Dr. Steph enjoys riding motorcycles, spending time with her husband and fur kids, and reading. Her veterinary special interests are surgery and pain management—especially arthritis and end-of-life/hospice care. She also takes great pride in being Fear Free CertifiedSM and makes it a priority to reduce veterinary-visit-associated stress for both pets and their owners.
Dr. Steph loves being a veterinarian, and it shows in everything she does for her clients and patients.